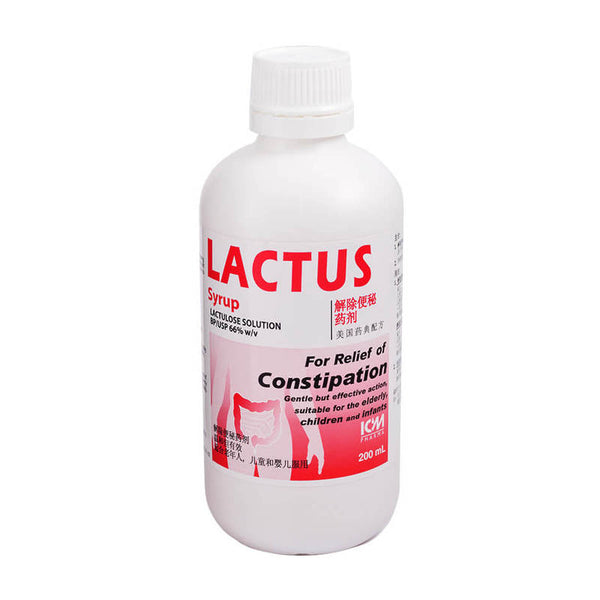 LACTUS SYRUP
LACTUS SYRUP 200 ml
Lactulose Solution BP/USP 66% w/v
For relief of constipation. Gentle but effective action, suitable for the elderly. children and infants. 
Indications: 
1. Treatment of constipation: it encourages bowel movement by drawing water into the bowel from surrounding body tissues. This provide soft stool mass and increased bowel action. It may take up to 48 hours to take effect.
2. Helps in the treatment of hepatic encephalopathy
Dosage & Administration 
Constipation: Treatment Dosage
Adult            : Three teaspoonfuls (15ml)
Child 1 to 5 years  : One teaspoonful (5ml)
         5 to 10 years: Two teaspoonful (10 ml)
Infant under 1 year  : One teaspoonful ( 2.5ml)
To be taken twice daily, gradually reduced accordingly to requirement.
Maintenance dose for chronic constipation
Adult : Two to Three teaspoonfuls (10-15ml) once daily
Child 1 to 10 years : One to Two teaspoonfuls ( 5-10ml) once daily.
Infant under 1 year: One teaspoonful ( 5ml) once daily.
HEPATIC ENCEPHALOPATHY
Adult: Take 30-50ml, three times daily. Initial doses of 30-45ml may be given every hour, subsequently adjusted to produce two to three soft stools daily.