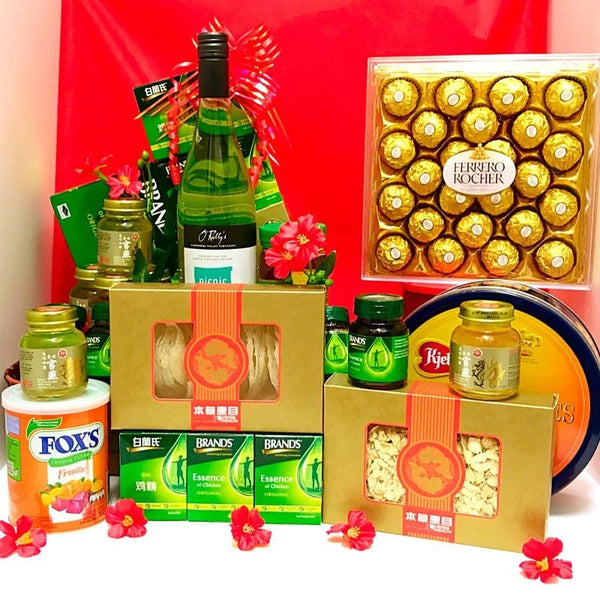 CONGRATULATORY TONICS HAMPER PREMIUM PLUS
CONGRATULATORY TONICS HAMPER PREMIUM PLUS 
恭贺健康礼篮特顶级
*FREE DELIVERY 
Suitable as a superior gift for 做为恭贺健康礼品,最适合的场合为;
Congratulation on new business opening 恭贺新业开张
Congratulation on new achievements 恭贺新成就
Congratulation on a happy occasion 恭贺喜事临门
Include:
Dragon Brand Superior Jin Si Guan Yan Bird's Nest with Rock Sugar bottled bird nest 龙标高级冰糖金丝官燕 6 x 75g
Brand's Essence of Chicken Original 白兰氏鸡精原味 7 x 68ml
O Reilly's Moscato 莫斯卡托葡萄酒 750ml
Origins Organic Raw Honey 有机蜂蜜 1x500g
Ferrero Rocher 费列罗巧克力 24 pieces
Kjeldsens Original Danish Butter Cookies 丹麦篮罐曲奇奶油饼 454g
Meiji Hello Panda Biscuits with chocolate Flavoured Filling 明治熊猫巧克力夹心饼 400g
Fox's Crystal-Clear Fruits Sweets 多种水果味果糖 180g
Superior Birds Nest 1 Taels (37.5g) 特级白官燕 一两(37.5g)
American Ginseng Slices 1 Tael (37.5g) 美国西洋参一两(37.5g)
Congratulatory Tonic Hamper Premium Plus consist of a tael of superior bird nest and bottled bird nest which is used traditionally to promote overall immunity and is responsible for skin and tissues repaired. It also helps to speed up recovery. Bird nest also help to improve appetite and improve digestion. Essence of Chicken is known to combat mental fatigue, improve concentration, improve recovery after exercise, improve mood, improve quality of lactation and reduce glycemic response. Moderate drinking of wine has shown to promote blood circulation, reduce risk of heart disease and slow brain decline. Honey is known to improve immunity, exhibit anti-bacterial properties and have probiotic effect. 
Ferrero Rocher hazelnut chocolate, Kjeldsens butter cookies, Meiji Hello Panda biscuits as well as Fox's sweets provide the necessary calories and energy for our daily needs.
American Ginseng is used to boost the immunity system of the body which make it ideal for the aged as well for those with compromised immunity.
The synergistic beneficial effects of the contents make Congratulatory Tonic Hamper Premium Plus a great gift for your loves one health needs.
恭贺健康礼篮特顶级里包含了一两白官燕盏及六瓶装燕窝。燕窝具有提高免疫功能,也可帮助组织与皮肤的修复。 它能加速身体康复,并能促进食欲与改善消化功能。鸡精具有抗疲劳,提高集中力,改善运动后的康复,改善情绪,并能增强母乳哺育期素质,也能改善血糖代谢。适量饮洒能促进血液循环、减低心脏疾病风险与減缓脑活动退化。蜂蜜具提高免疫功能,抗病菌及促肠胃代谢。
费列罗巧克力,丹麦篮罐曲奇奶油饼,明治熊猫巧克力夹心饼及Fox多种水果味果糖提供所需要的足够热量。
西洋参具有补气养阴,清热生津功效。最适合年长或体虛者以补益元气。
恭贺健康礼篮特顶级里的组成功效,将能提供您亲朋戚友他们健康所需要的补充。
The company reserved the rights to change a product of similar content and value in event of unforeseen circumstances.
公司有权在特別状况下更换类似与同等价格的货品。